Land-use in the Light of Climate Change: representatives from science and practice exchange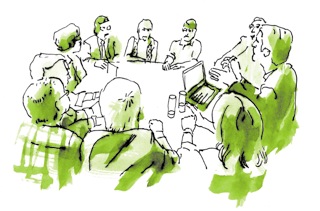 The project "Climate Change – Land Use Strategies Deutschland" (CC-LandStraD) ends in October 2015. The main results of the project were discussed with scientists of the project team and stakeholders of the land-use sectors on June 1 2015 in Hanover. Since the year of 2010 the project pursues the question how land-use in Germany has to be organized to reduce greenhouse gas emissions and what this means for climate adaptation. The main land use sectors agriculture, forestry and settlement were nationally included in this research project for the first time.
At the Workshop in June, the scientists of Thünen Institute and their project partners presented main results of their project work. The Thünen Institute, as main organization of the project, the federal Institute for Research on Building, Urban Affairs and Spatial Development (BBSR), the Institute for Ecological Economy Research (IÖW), the Potsdam Institute for Climate Impact Research (PIK), the Westfälische Wilhelms-Universität (WWU) Münster and the Leibniz Centre for Agricultural Landscape Research (ZALF) are involved in the working progress ofCC-LandStraD. The aim of the workshop was to discuss recommendations with different stakeholders of land use. Representatives of organizations from the agricultural, forestry and settlement sector were invited to Hanover.
This workshop in June was a further element of the cooperation between scientist and stakeholders, which has taken place throughout the course of the project. Because of discussions, workshops, focus groups and interviews on national and regional level the expertise of different organizations were constantly involved in the project progress.
At this point that we would like to thank the stakeholders for the work done of our project.
Click here to get the detailed workshop documentation.